About Lil' Kickers:
From Child Development to Soccer Skills
What inspires us at Lil' Kickers? Kids! Plain and simple: we are a family business. When we started Lil' Kickers in 1999 we wanted to build a kids' program that was fundamentally sound and outrageously fun. What we started in our three Arena Sports indoor soccer facilities in Seattle, Washington, has now grown into a national franchise with more than 100 locations in 27 states and provinces, with a total enrollment of over 1,000,000 kids and growing!
How did we do it? By starting with the experts. Using world renowned child development theories, child development professionals, experienced coaches and the expertise that comes along with thousands of hours of working with children, we created a curriculum that introduces kids to soccer and so much more. Our program helps develop a child's social, emotional, and cognitive skills while providing physical exercise and developing players who are good sports and good teammates — on and off the soccer field.
What do we believe?
We believe childhood is a magical time full of possibilities.
We believe in approaching everything from a developmental perspective.
We believe learning should be fun.
We believe in creating space for all children whether they are on the road to all-star soccer or simply just want to play.
Each facility operating a Lil' Kickers program has gone through rigorous training to make sure your child is getting the best instruction possible. We also continually evaluate our program to ensure that our curriculum is of the highest quality.
Making A Difference.
One Goal At A Time.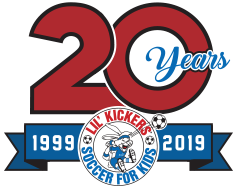 "My son has enjoyed this program more than any other he has been in, and he's played A LOT!"
"They LOVE the imaginative games that are teaching soccer skills without them realizing it. It is perfect for their age. They love their coaches and look forward to soccer every week! Highly recommend- especially for those younger ones who need to start learning how to listen to other adults!"
"All 3 of our kids have been in Lil' Kickers because they love it. And because we could see them growing in skill and confidence."